Root Canals in Kyle, TX
Worry No More With Drama-Free Root Canals
Relieve pain, stop infection, and save your tooth with Dr. David McIntyre
Root Canals Done Right
Many people describe the worst, most painful things in life being similar to a root canal.
You might think that needing a root canal is the worst thing that could ever happen to you, but that is simply not the case.
Usually, needing a root canal means you are in a lot of pain. Then you go to the doctor for relief only to be referred to an expensive specialist with repeat paperwork and costly consultation fee—and you are still in pain!
As your dentist in Kyle, TX, Dr. McIntyre makes saving your tooth and relieving your pain with root canal therapy as stress-free and painless as possible.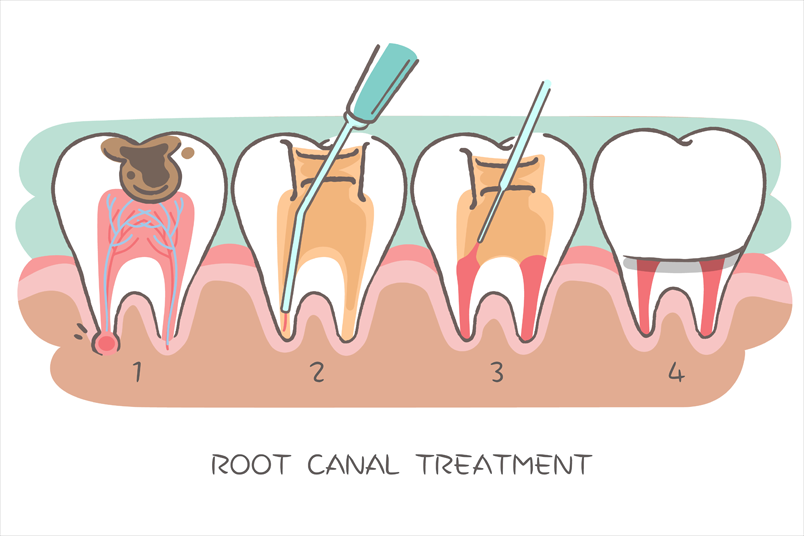 Quickly Eliminate Any Dental Pain
Do you need a root canal?
You might need a root canal if you have experienced facial trauma or injury, or have extensive decay in a tooth that has reached the inner most layer of your tooth, which contains nerves and blood vessels.
In order to relieve the pain, stop the infection, and save your tooth, this area needs to be "cleaned out," sterilized, and filled up.
Dr. McIntyre is happy to provide his patients with root canal therapy in the convenience of his office.
In most cases there is no need to be referred to another doctor and leave the comfort of our office.
Root Canal Procedure
Before your procedure you will be sufficiently numbed to ensure your comfort throughout your entire appointment.
The general steps are as follows:
A tiny opening is created at the top of your tooth to access the infected inner chamber of your tooth.
A small dental file is used to clean out the infected tissue and to prepare the now-empty area to be filled.
X-rays are taken to ensure no infection remains.
Special materials are used to fill the inside of your tooth.
Sometimes a small post is placed to strengthen your tooth.
Often a dental crown is needed to strengthen and protect your tooth.
What People Are Saying
We love our patients at Clear Springs Family Denistry and find great joy in helping improve the quality of life for those we serve. These are a few of our success stories and reviews from several of our patients.
It took me years to find a dentistry office I actually like in TX after moving here from CT; where I had been going to the same dentist since I was a kid.
I am sooooo happy I found this amazing practice! Dr McIntyre is incredibly personable and gives very thorough exams. Rachael is the nicest!!! I thoroughly enjoy my cleanings every 6 months!
Everyone there takes the time to get to know you and remembers you every visit. The heated massage chairs and TVs on the ceiling are the icing on the cake!
Dr. McIntyre and his team are all wonderful. They go the extra step to make sure you feel comfortable. A lot of people have anxiety about going to the dentist. This is a place you would even have to worry about. It's so warm, comforting and inviting. Great job you guys!
I could NOT ask for a better experience at a dentist office.
Dr McIntyre and his staff was such a joy to be around that I would go back just to visit. The chairs massaged my back while I watched birds out the window and Doc worked on me. GREAT experience!!!!! I will recommend Clear Springs to everyone. Thanks you guys!
Dr. David McIntyre is an active member in his community and a general dentist in Kyle, TX. We are a family-owned and -operated practice that welcomes patients of all ages.
From toddlers to grandparents, we know your whole family will love our warm and friendly office.
From cleanings to dental implants, we have got you covered!