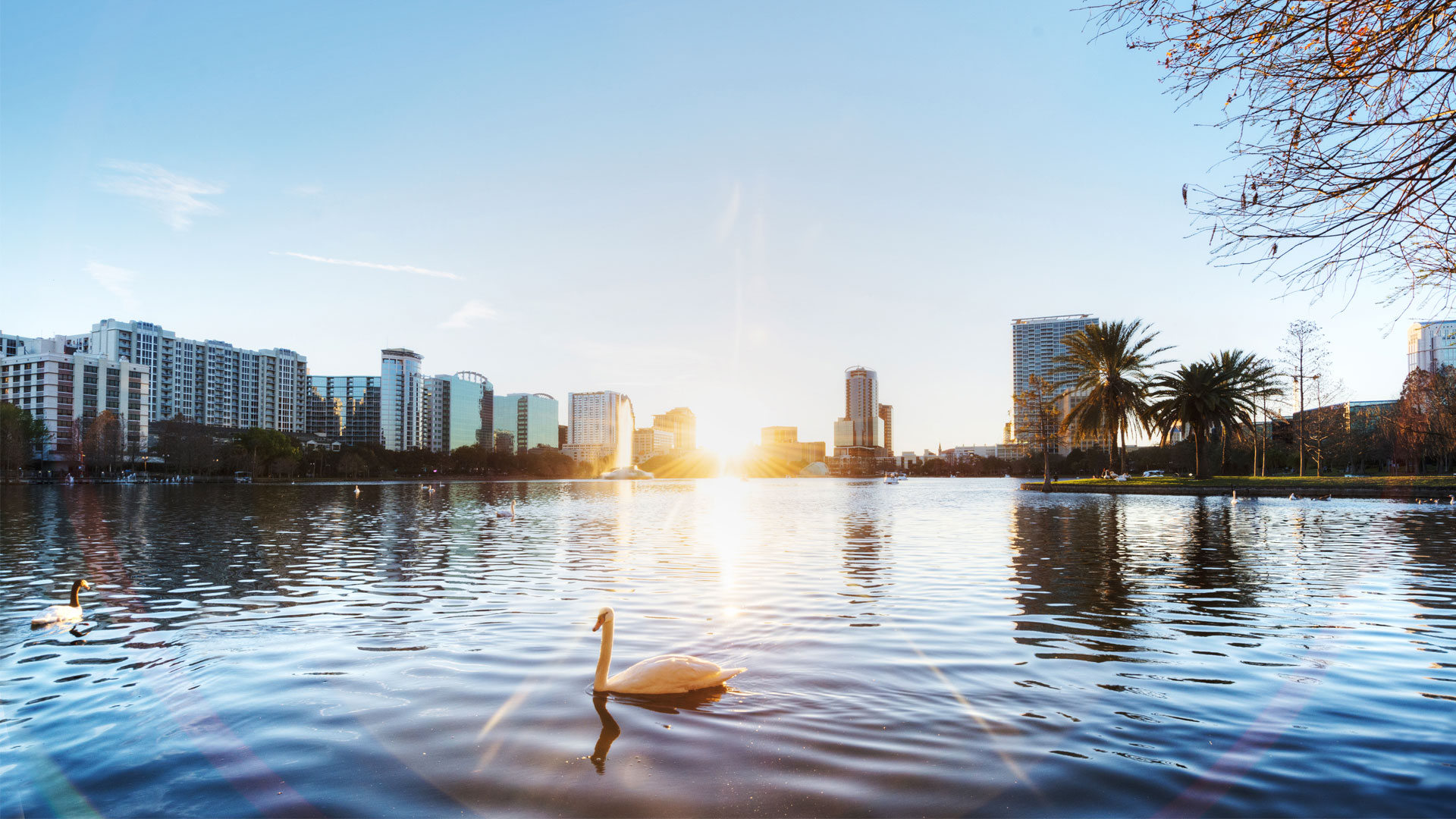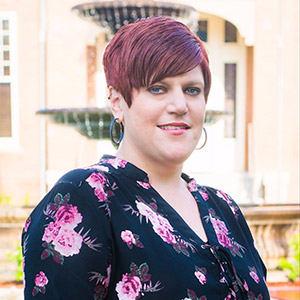 Jennifer​ ​Swain
Office​ ​Manager
Jennifer​ ​is​ ​one​ ​of​ ​the​ ​first​ ​friendly​ ​faces​ ​greeting​ ​you​ ​as​ ​you​ ​come​ ​into​ ​the​ ​dental​ ​office. Her​ ​dental​ ​career​ ​began​ ​as​ ​a​ ​Registered​ ​Dental​ ​Assistant,​ ​where​ ​she​ ​perfected​ ​her skills​ ​for​ ​13​ ​years.​ ​Always​ ​striving​ ​to​ ​learn​ ​more​ ​and​ ​grow​ ​in​ ​the​ ​dental​ ​field,​ ​she​ ​took on​ ​a​ ​front​ ​office​ ​position​ ​when​ ​Dr.​ ​McIntyre​ ​purchased​ ​his​ ​practice​ ​in​ ​2014.​ ​We​ ​are​ ​now proud​ ​to​ ​have​ ​Jennifer​ ​as​ ​our​ ​office​ ​manager.​ ​Jennifer​ ​makes​ ​it​ ​her​ ​mission​ ​to​ ​make sure​ ​each​ ​person​ ​that​ ​calls​ ​or​ ​comes​ ​through​ ​the​ ​door​ ​is​ ​valued;​ ​not​ ​just​ ​as​ ​a​ ​patient, but​ ​as​ ​an​ ​individual.​ ​She​ ​is​ ​attentive​ ​and​ ​after​ ​serving​ ​the​ ​people​ ​of​ ​Hays​ ​County​ ​for​ ​so many​ ​years​ ​many​ ​patients​ ​are​ ​happy​ ​to​ ​call​ ​her​ ​a​ ​friend.​ ​In​ ​her​ ​free​ ​time​ ​she​ ​loves​ ​to​ ​be with​ ​her​ ​wonderful​ ​husband​ ​and​ ​four​ ​children​ ​fishing,​ ​kayaking​ ​and​ ​cooking​ ​(ask​ ​her about​ ​her​ ​famous​ ​chocolate​ ​cake!)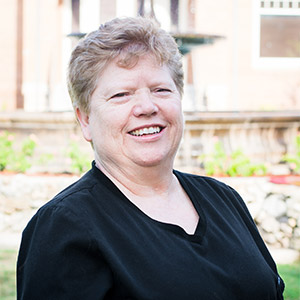 Connie​ ​Freeman
Registered​ ​Dental​ ​Assistant
Miss​ ​Connie​ ​is​ ​part​ ​of​ ​a​ ​long​ ​tradition​ ​of​ ​local​ ​Hays​ ​families.​ ​Her​ ​great,​ ​great grandmother​ ​got​ ​off​ ​the​ ​stagecoach​ ​in​ ​Mountain​ ​City​ ​and​ ​she​ ​was​ ​born​ ​in​ ​downtown Buda.​ ​In​ ​1975​ ​Connie​ ​became​ ​a​ ​chairside​ ​dental​ ​assistant​ ​and​ ​has​ ​been​ ​an​ ​important member​ ​of​ ​the​ ​dental​ ​team​ ​ever​ ​since!​ ​Connie​ ​is​ ​known​ ​in​ ​the​ ​office​ ​for​ ​her​ ​warm​ ​smile, clever​ ​stories​ ​and​ ​her​ ​almost​ ​magical​ ​ability​ ​to​ ​make​ ​everyone​ ​feel​ ​welcome​ ​and​ ​part​ ​of her​ ​family.​ ​She​ ​loves​ ​cooking,​ ​spending​ ​time​ ​with​ ​extended​ ​family​ ​and​ ​supporting​ ​her UT​ ​longhorns-​ ​HOOK​ ​'EM!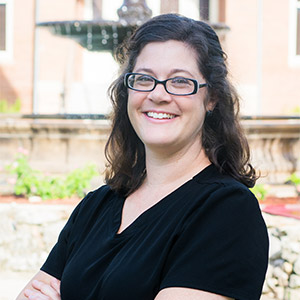 Ashley​ ​Dabbs
Registered​ ​Dental​ ​Assistant
A​ ​native​ ​Texan,​ ​Ashley​ ​has​ ​been​ ​practicing​ ​as​ ​a​ ​Registered​ ​Dental​ ​Assistant​ ​for​ ​nine years,​ ​and​ ​recently​ ​joined​ ​the​ ​Clear​ ​Springs​ ​Family​ ​Dentistry​ ​team.​ ​When​ ​she​ ​isn't​ ​in the​ ​office,​ ​Ashley​ ​loves​ ​spending​ ​time​ ​with​ ​her​ ​husband​ ​and​ ​baby​ ​boy.​ ​She​ ​enjoys being​ ​near​ ​the​ ​water,​ ​fishing​ ​and​ ​visiting​ ​local​ ​parks.​ ​Working​ ​and​ ​listening​ ​to​ ​patients to​ ​provide​ ​the​ ​best​ ​dental​ ​care​ ​is​ ​very​ ​fulfilling​ ​and​ ​important​ ​to​ ​Ashley​ ​and​ ​we​ ​are​ ​so thrilled​ ​to​ ​have​ ​her​ ​part​ ​of​ ​our​ ​dental​ ​family.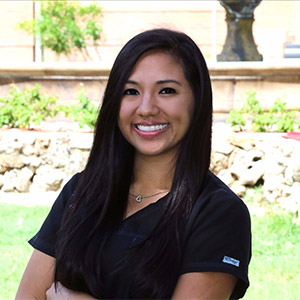 Gabby​ ​Ivarra-Espinoza
Insurance​ ​Specialist
One​ ​of​ ​the​ ​first​ ​things​ ​you​ ​notice​ ​about​ ​Gabby​ ​is​ ​her​ ​genuine,​ ​warm,​ ​friendly​ ​smile​ ​up​ ​at the​ ​front​ ​desk!​ ​Gabby​ ​is​ ​our​ ​insurance​ ​guru.​ ​She​ ​works​ ​diligently​ ​to​ ​help​ ​our​ ​patients understand​ ​their​ ​insurance​ ​plans​ ​and​ ​benefits.​ ​This​ ​allows​ ​each​ ​individual​ ​the​ ​ability​ ​to maximize​ ​their​ ​benefits​ ​to​ ​fit​ ​their​ ​dental​ ​needs.​ ​Gabby​ ​is​ ​also​ ​an​ ​experienced​ ​dental assistant.​ ​Her​ ​favorite​ ​part​ ​of​ ​dentistry​ ​is​ ​seeing​ ​the​ ​positive​ ​changes​ ​that​ ​occur​ ​in​ ​a patient's​ ​life​ ​from​ ​an​ ​improved​ ​smile.​ ​She​ ​also​ ​enjoys​ ​listening​ ​to​ ​her​ ​patients​ ​and creating​ ​financial​ ​plans​ ​that​ ​fit​ ​the​ ​needs​ ​of​ ​our​ ​dental​ ​family.​ ​Originally​ ​from​ ​a​ ​small town​ ​outside​ ​San​ ​Marcos,​ ​Gabby​ ​loves​ ​living​ ​in​ ​the​ ​country.​ ​She​ ​spends​ ​her​ ​quality time​ ​on​ ​the​ ​road​ ​with​ ​her​ ​daughter's​ ​activities,​ ​spending​ ​time​ ​with​ ​family​ ​and​ ​friends, and​ ​trying​ ​Pinterest​ ​projects.​ ​She​ ​can't​ ​wait​ ​to​ ​meet​ ​you!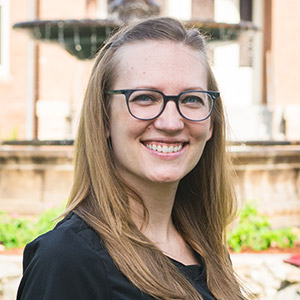 Rachael​ ​Lunsford
Registered​ ​Dental​ ​Hygienist
Originally​ ​from​ ​Delaware,​ ​Rachael ​moved​ ​to​ ​Texas​ ​and​ ​joined​ ​this​ ​wonderful​ ​dental​ ​team in​ ​2014​ ​where​ ​her​ ​bright​ ​personality​ ​and​ ​excellent​ ​dental​ ​skill​ ​set​ ​is​ ​greatly​ ​valued.​ ​She has​ ​been​ ​a​ ​practicing​ ​hygienist​ ​for​ ​7​ ​years,​ ​providing​ ​a​ ​comfortable​ ​environment​ ​where a​ ​professional​ ​relationship​ ​based​ ​on​ ​trust​ ​is​ ​her​ ​number​ ​one​ ​goal.​ ​Rachael​ ​strives​ ​to​ ​give each​ ​patient​ ​the​ ​best​ ​treatment​ ​possible​ ​and​ ​meet​ ​his​ ​or​ ​her​ ​dental​ ​goals.​ ​Outside​ ​of work,​ ​Rachael​ ​loves​ ​to​ ​travel,​ ​go​ ​to​ ​the​ ​beach​ ​and​ ​supports​ ​the​ ​Lehman​ ​Lobos​ ​marching band​ ​and​ ​football​ ​team​ ​(her​ ​husband​ ​is​ ​one​ ​of​ ​the​ ​band​ ​directors).​ ​She​ ​especially​ ​loves to​ ​spend​ ​quality​ ​time​ ​with​ ​her​ ​new​ ​baby​ ​girl.
Contact Us Today to Schedule an AppointmentCall our office today at(512)-402-5987
We accept Care Credit, Lending Club and Compassionate Finance as well as cash, credit card and check.
Contact Us About Scheduling an Appointment
Explore Our Treatments and Services
Call Us
Find Us