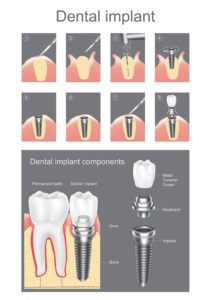 So, you're missing a few teeth here or there; no big deal, right?
Wrong! While it's easy to try and justify the reasons why you haven't been in to see a dentist yet, the truth is that you're just fooling yourself. Missing teeth not only cause adverse health effects, they also decrease your quality of life. To keep your smile healthy and the rest of you happy, you should consider dental implants in Kyle, TX from a professional, experienced dentist.
Adverse Health Effects of Missing Teeth
While there are many things in life that can just be left alone, a missing tooth is not one of them. If not taken care of, your missing teeth can cause some serious side effects that include the following:
When you lose a tooth, the other nearby teeth will start shifting to fill in the gap. This makes cleaning your teeth harder and could lead to an increased chance of gum disease. Shifting teeth could also end up costing you a lot of money in orthodontic work down the road.
Without a tooth to stimulate your jaw bone, it will start to deteriorate. If you wait too long to get a dental implant, your bone loss might be so drastic that you lack the integrity to ever get one in the future.
Improve Your Quality of Life and Your Smile
Dental implants, when properly done, are strong and stable and feel and function just like natural teeth. While other fixes like bridges and can be great in the short term, nothing is quite like the permanent fix of a dental implant. You'll be able to eat the foods you want, laugh, speak and smile confidently in public and live your life without worrying about your teeth.
Contact Us Today
If you're ready to fill those gaps in your mouth with dental implants in Kyle, TX and improve your quality of life at the same time, then it's time to get some dental implants from Dr. McIntyre at Clear Springs Dentistry. Call us today at (512)-402-5987 to set up an appointment online.