What to Do if You Have a Toothache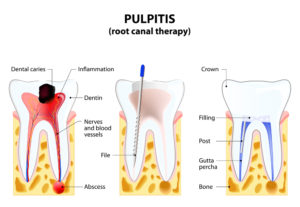 Just because February 9 is National Toothache Day does not mean you need to celebrate with one. Pain is no fun, but it also is not permanent. Check out these tips and tricks for dealing with a toothache and learn when it is time to consider going to the dentist for a root canal in Kyle, TX.
Understand the Causes of Aching Teeth
Toothaches can occur for many reasons, but some of the most common are abscessed teeth, damaged dental work, other types of mouth infections or because of chewing gum or grinding teeth. Severe tooth trauma due to a sports injury or car accident can also cause pain and should be looked at immediately.
What to Try First
Before heading to the dentist, there are several home remedies you can try. Start with an over-the-counter pain medication and a warm salt water rinse. You might also consider numbing the infected area with an oral anesthetic or ice. Keep your teeth clean and a record of your pain. This will help the dentist decide on a plan of action should you decide you need to visit one.
When to Go to the Dentist
You may need to visit the dentist for a root canal if you have several other symptoms in addition to tooth pain and want to avoid a tooth extraction. Those symptoms include the area feeling tender when you touch it or chew, being sensitive to hot or cold, swelling, or feeling as if there is swelling. A dentist can perform a root canal, which involves removing the infected pulp from the tooth, and then filling and sealing the area to prevent further pain and infection. Once that heals, you will return for a crown to protect the tooth and restore its function and beauty.
If you suspect you may be in need of a root canal in Kyle, TX, allow our dentist, Dr. David McIntyre, to help. Contact us at (512)-402-5987 or schedule an appointment online with Clear Springs Family Dentistry today!
Contact Us Today to Schedule an AppointmentCall our office today at(512) 268-4011
We accept Care Credit, and Lending Club as well as cash, credit card and check.
Contact Us About Scheduling an Appointment
Explore Our Treatments and Services
Call Us
Find Us